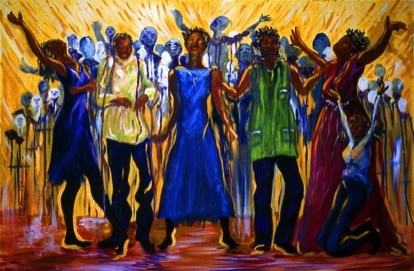 "Spirit Filled"
© 2001 Grace A. Washington
All Rights Reserved by Grace A. Washington
"Spirit Filled" was inspired by memories of my childhood when my Aunt would sometimes take me and my siblings to her church. The music, praise, and outward displays of love for God was my first experiences in church and I loved it. As a young girl the whole experience to me was a joyous party and celebration for love of God. I remember the older church members after, using the phrase "spirit filled", which at the time I had no idea what it meant but I sensed it was something extremely imporant and valuable. In my painting "Spirit Filled" the people are joyously celebrating the Lord and the blue figures in the background represent the angels celebrating with the people.