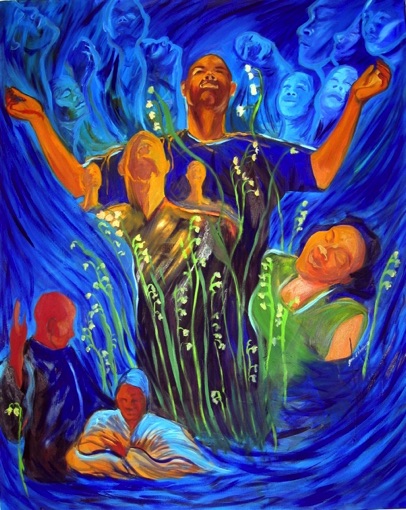 "Lilies of the Field"
© 2006 Grace A. Washington
All Rights Reserved by Grace A. Washington
Matthew 6:28 was the inspiration for "Lilies of the Field". My son Michael posed for the main figure in this painting. The blue faces in the background represent the angels of the Lord. The baptism portrays the outward public acceptance of Jesus Christ into a person's heart and life. The lady in the mid-ground is in peaceful praise. In my original sketches, I had two other figures in worship with my son. Before painting the lilies, I felt the need to add one more figure to stand with my son.
My son Michael, posed for this painting and my charcoal drawing of "Freedom's Pride". Both were created years before his death fighting in Afghanistan in the operation Enduring Freedom. Michael was killed with three other young Marines. After Michael's death, both pieces were very difficult for me to look at but my son's great faith in the Lord gave me some comfort. It took me years to be able to look at each artwork without crying.
Sgt. Michael T.-H. Washington, USMC
10/6/87 - 6/14/08
"And why are you worried about clothing? Observe how the lilies of the field grow; they do not toil nor do they spin"
Matthew 6:28