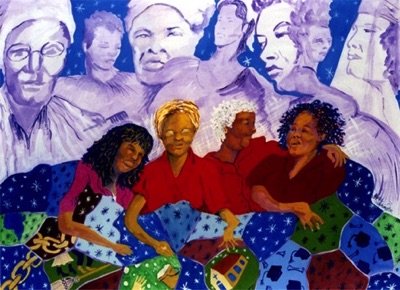 "I Am My Sister's Keeper"
© 2002 Grace A. Washington
All Rights Reserved by Grace A. Washington
"I Am My Sister's Keeper" was created when a friend of mine, a nurse, asked if I would paint a painting to be featured and used to advertise a woman's health event. The focus of the health event was to educate women of color on cancer and health awareness.
I used historical figures, a hair dresser, a nurse, and pregnant woman to represent figures of the past and present. The four women range in age and represent the care, friendship and common history of strength through oppression. The quilt represents the historical path African American women have traveled through symbols of Africa, slavery, jumping the broom, domestic occupations, church and education.
This was the first painting I painted for this event and I was and still am honored to of been a part of such a worthy event.