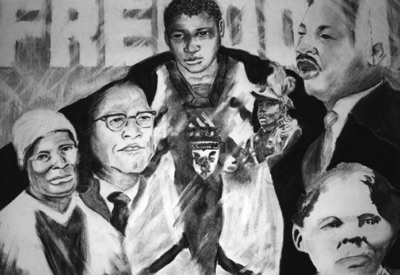 "Freedom's Pride"
© 2001 Grace A. Washington
All Rights Reserved by Grace A. Washington
In 2001, I was asked to assist high school students in creating an artistic display to celebrate Black History month. The ideas presented from the students centered around current events, not historical events. I wanted to do a drawing to inspire them and others to think of and become aware of the sacrifices others have made for the freedoms that African Americans have today. Many who sacrificed their lives, never experienced freedom.
"Freedom's Pride" portrays Sojourner Truth, Malcolm X, Marcus Garvey, Harriet Tubman and Marin Luther King, Jr. The young boy in the middle is a portrait of my son, who was fourteen years old when I drew "Freedom's Pride". With tremendous pain and heartache, six years later my son, Sgt. Michael Toussaint-Hyle Washington was killed in action in Afghanistan, in the operation Enduring Freedom. I had used his image in this piece and "Lilies of the Field", also painted years before his death. Michael was twenty when he was killed and he served with the Marine Corps.