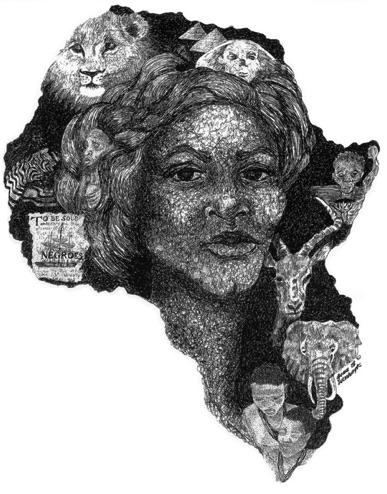 "Africa" (printed on Ivory Acid Free Paper)
© 1996 Grace A. Washington
All Rights Reserved by Grace A. Washington
The inspiration for "Africa" came after I completed a series of pen and ink drawings on trees inspired from Nikki Giovanni poem "If Trees Could Talk". In the poem, she gave the trees human characteristics and wondered what thoughts they had witnessing historical changes.
I wondered what would a continent say, specifically what would Africa say. A continent so full of wealth and hardship, with her citizen's transplanted throughout the world, many involuntarily and other's losing their life in the process.
I felt that the complexity of Africa's history needed to be told with different pen and ink techniques woven together to create tension and harmony. which is found in "Africa".